India Population 2019
The population of India is 1,311,559,204.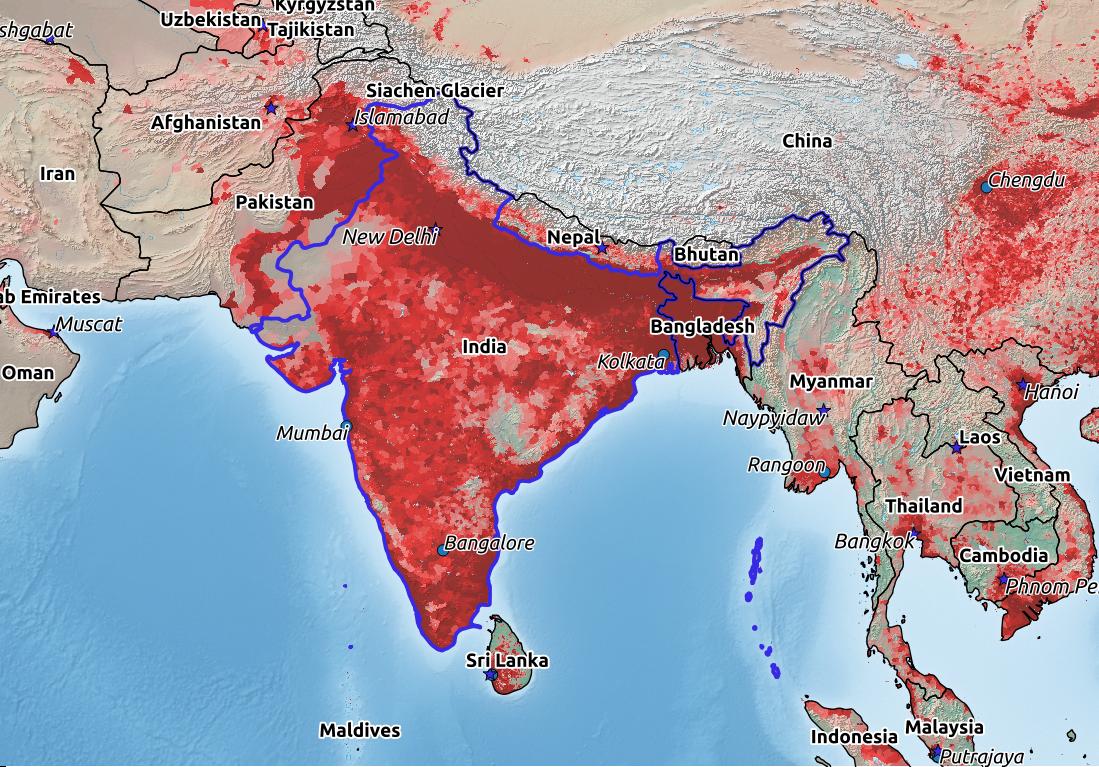 India is the second most populated country on Earth, behind China. India is projected to grow to more than 1.4 billion people within the next ten years, surpassing China as the world's population leader. The population density of India is almost 450 people per square kilometer, ranked 28th among the world's countries. More than two thirds of India's people live in rural farming areas, although the country is also home to some of the world's largest and most rapidly growing cities, including Mumbai, Delhi, Chennai, Kolkata, Bangalore, Hyderabad, Ahmedabad, Surat, and Pune. Great improvements in healthcare, agriculture, and industry have steadily decreased infant and child mortality rates and raised life expectancy rates for the expanding population of India.
Annual Population
Population India World Rank
Population data from International Data Base (IDB) from the U.S. Census Bureau.
| Year | Population | World Rank | People SqKM |
| --- | --- | --- | --- |
Birth Rates
Annual Birth Rates
Births Per 1,000 People.
Death Rates
Annual Death Rates
Deaths Per 1,000 People.
Migration Rates
Annual Migration Rates
Net Migrants Per 1,000 People.
Rate of Natural Increase (RNI) %
Annual RNI Rates
Birth Rate Minus Death Rate.
Rate of Growth %
Annual Population Growth Rates
Birth Rate Minus Death Rate, Plus Migration.
Rate of Infant Mortality
Annual Infant Mortality Rates
Less Than One Year Old, Deaths Per 1,000 Infants.
| Year | Infant Mortality Rate Per 1,000 |
| --- | --- |
Rate of Child Mortality
Annual Child Mortality Rates
Ages One to Five Years Old, Deaths Per 1,000 Children.
| Year | Child Mortality Rate Per 1,000 |
| --- | --- |
Life Expectancy
Life Expectancy
Years of Expected Life.
| Year | Life Expectancy Years |
| --- | --- |
Fertility Rate
Rate of Fertility
Average Children Born Per Woman.
Home
|
Blog
|
Privacy Policy